Checklist: How to find the best talents
Commit to diversity, address inclusivity
Media companies that want more diversity in their editorial teams should communicate this clearly in their job advertisements. At the very least, there should be a statement such as: "We welcome applications from people with an immigrant background. Or even more inclusive: "We look forward to receiving applications from people with a wide variety of social and cultural backgrounds.
The less such a statement sounds like a standard formulation, the better. Clear signals showing that you really mean this are important. The same applies to the illustrations on your website or your job ads. If you only depict white people, don't be surprised if they are the only ones to send in applications.
Alle Geschlechter ansprechen
Ausschreibungen, die sich nur an "Bewerber" richten, findet man heute zu Tage zum Glück nur noch selten. Aber immer noch scheint es manche Verantwortliche zu geben, die offenbar nur mit Männern zusammenarbeiten wollen: Das reicht vom fehlenden Sternchen für Bewerber*innen bis hin zu No-Gos wie "...dann sind Sie der richtige Mann für unser Team".
Auch das obligatorische (m/w/d) ist keine gute Lösung, denn zum einen fühlen sich durch die männlichen Formen, die der Klammer vorausgehen, dann eben doch nicht alle Geschlechter angesprochen. Zum anderen lässt die Formulierung die vierte mögliche Option aus: gar kein Geschlecht anzugeben.
Even better than addressing all genders can therefore be to simply leave the question of gender out of it altogether. Instead of addressing former "male and female volunteers," the advertisement can be addressed to people who have completed their voluntary service. It is just as good as "an editorial director" to advertise a competent "editorial management".
List only requirements that really matter
Job advertisements should dispense with requirements that are not necessary for the job and exclude potential applicants. Fortunately, hardly anyone today expects "German as a native language," which for years excluded people who spoke perfect German but merely had immigrant parents. But even a "perfect knowledge of German" is not always necessary, as for example in photo editing.
And phrases such as "young team" or "flexible" working hours can be hidden discrimination traps for experienced journalists or colleagues with children. And is it really necessary for trainees to have "completed a master's degree" or can relevant expertise and experience be acquired in other ways?
Anonymized application procedures
While applications without a photo and information on place of birth, age, gender, and marital status have long been standard in the U.S. and the U.K., many HR managers in this country still insist on this information. Why? When supposedly only the applicant's qualifications are important?
Unfortunately, anonymous application procedures are not yet standard in Germany. Many recruiters seem to fear losing control and seem to think that a request for such procedures implies that they are not fair in their choice of candidates. We, however, believe that these concerns are unjustified and that such application procedures definitely deserve a chance because they bring great advantages:
They proactively ensure equal opportunities and thus motivate new groups of applicants.
They actually make it easier for HR staff to sift through the information, because only highly motivated applicants tend to respond to questions in the application form.
By specifying which information is relevant and by asking candidates about their specific motivation for applying, you make the whole process easier and more comparative.
Three variants of anonymized applications:
Anonymized online applications: Applicants can enter only the information that is really important into a predefined online form.
Anonymized application forms: Interested parties receive the application form by e-mail or post and return it the same way. Before the decision-maker receives it, the page with the personal contact information is simply removed.
Retrospective anonymization: All personal data is blacked out by a person in HR before the application is presented to the final decision maker (indeed a bit time-consuming).
A guide issued by the Federal Anti-Discrimination Agency provides detailed information on anonymised application procedures.
Don't voice unrealistic expectations
Some companies tend to overload their job advertisements with a whole list of requirements, knowing full well that there are hardly any applicants who meet all of them. This has consequences. Studies show: women tend to apply only if they really have all the qualifications. Male applicants are less inhibited about applying despite their lack of qualifications. If you want to appeal to more diverse applicants, it is better to limit yourself to the essentials.
Whether consciously or unconsciously, we are most likely to trust people who resemble us. As a result, a white editor-in-chief from an academic household tends to hire a white candidate from the educated middle class. Such "unconscious biases" (internalized prejudices) are difficult to overcome and take a lot of practice to do so. More diversity in the newsroom therefore also requires diversity in the recruiting staff.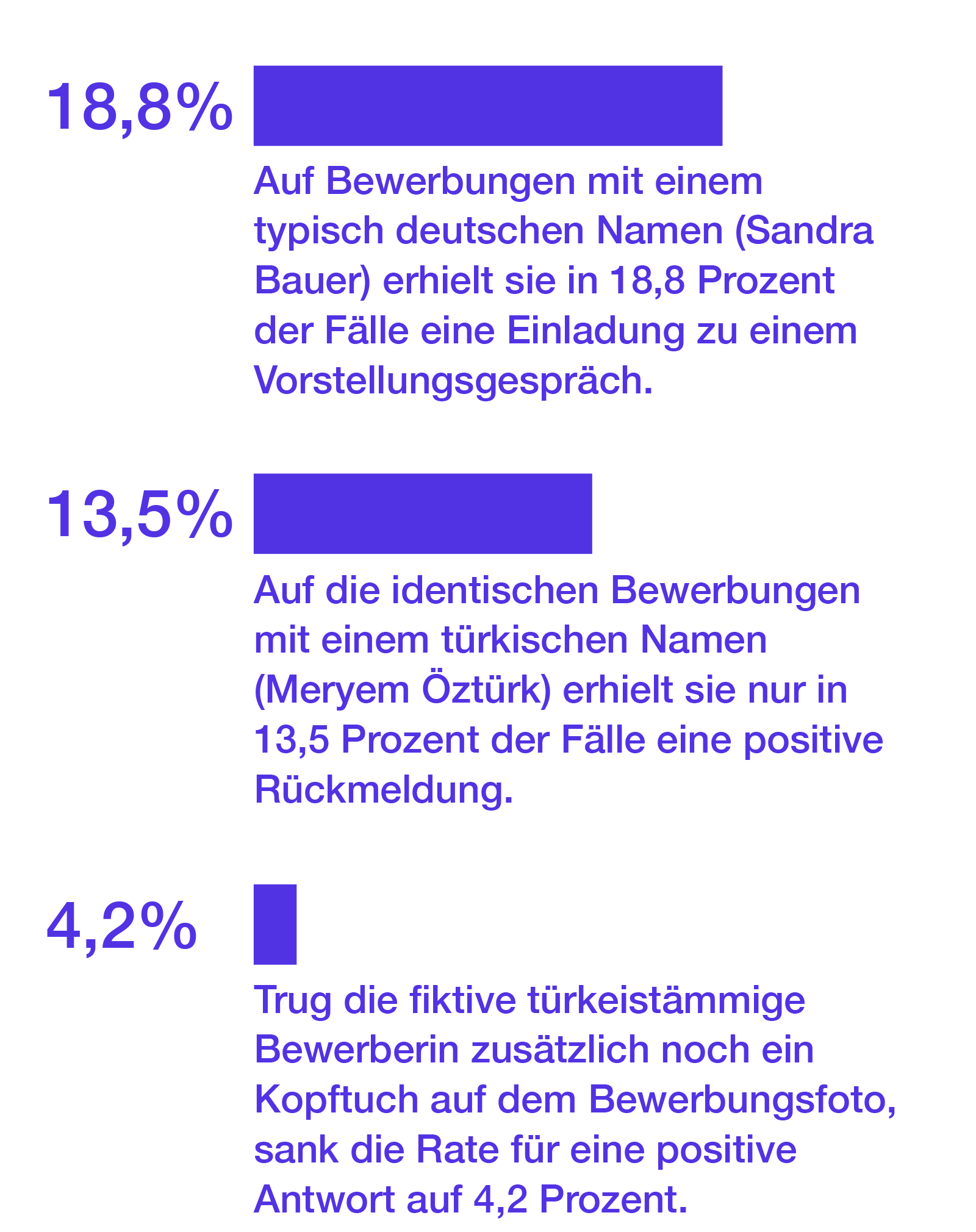 A guide for job interviews
Decision-makers in HR who clearly define all job-related criteria, who state exactly which qualifications they are looking for and whom they want for the job, and who then compare the applications with their criteria, run less risk of ultimately making decisions based on prejudices. Because there are plenty of those around:
Editors of print publications believe that journalists with an immigrant background would be better off in broadcasting, because possible deficits in the German language would not be so noticeable there.[1]
Radio editors on the other hand consider the print media to be a more sensible option for journalists with immigrant backgrounds, because they are less visible and audible there.
In all editorial departments, people from immigrant families may be accused of not sharing the same values or of not "reporting neutrally" because of their origin or religion (or that of their parents). These are all invisible biases that white German applicants are not confronted with.
When it comes to leadership positions, women are still assumed to have less assertiveness and leadership skills than men.
Media professionals with disabilities are confronted with the prejudice that they are hardly capable and not resilient.
For good journalists with immigrant backgrounds to prevail in the profession, good decision-makers in HR and binding guidelines for interviews are needed to ensure that all applicants have at least roughly the same chance.
Using networks to find talent
Local associations and initiatives can help spread the word about job openings. The large networks of the organizations involved in this guide, with thousands of media professionals and a large number of young journalists, is also a direct channel to diverse media personnel. Another way can be to show up where the people you are looking for can be found, for example, by placing job advertisements in trendy magazines or sending recruiters to events such as Sticks and Stones an LGBTIQ* recruiting fair.
The DJV appeals to media companies to reflect social diversity in the selection of their employees - for example, in terms of age, gender, ethnicity, social origin, sexual orientation, and physical and mental condition
Appeal voiced on 5. November 2018 during the Annual German Journalists' Association DJV Meeting